{{{name}}}
Biographical information
Other information
Relationships
Series information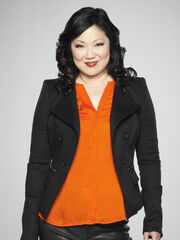 Teri is Jane Bingum's personal assistant at Harrison & Parker. She is snarky and sarcastic but has a good heart. She always gets the job done and doesn't put up with anybody's attitudes.
Early life
Edit
She starts dating former attorney Grayson Kent
Relationships
Edit
Teri is Jane's assistant. They have an excellent relationship, and Teri helps Jane with cases.
While Teri and Parker's relationship is not thoroughly examined, during season 1, Parker tries to replace Teri because he doesn't like the way she dresses and sees her as unprofessional. While he was unsuccessful in his attempts, it is later revealed that Teri dresses the way she does to annoy parker.
Teri dislikes Kim from the beginning of the series, as you see her call her a bitch in the first episode. But sometimes, Teri and Kim connect well. 
At first she disliked Stacy, telling her that H&P is not a gym when they were exercising with Jane.